2018 WAY 2 GO MAINE
READ MORE BELOW ABOUT WAY 2 GOMAINE 2018
Way 2 GO MAINE Results!
Thanks to everyone who participated in Way 2 GO MAINE! the Results are in!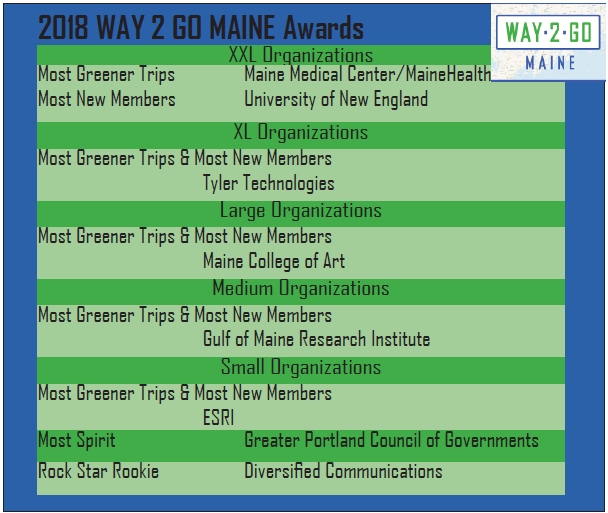 Way 2 GO MAINE Commuter Challenge Results in Cost Savings, Health Benefits, and Reduced Pollution
PORTLAND Maine- In celebration of National Rideshare Month, commuters from workplaces across Maine competed to take the most green commutes to work, for the WAY 2 GO MAINE Challenge. This fun, free event encourages Mainers to try commuting to work in a "green" fashion, including walking, taking the bus or train, biking, carpooling and telecommuting rather than driving alone. Participants were rewarded during the month with free prizes and their green commutes were highlighted through photos and stories as a way to encourage competition. The Way 2 GO MAINE Challenge is also an opportunity to celebrate those who already use green commutes.
During the Challenge, commuters take a green trip; record it and then their business gets points in 2 races for the Most Greener Trips and the Most New GO MAINE Members. There is also the Most Team Spirit race, determined by the fun and creative ways businesses show off their commutes and enthusiasm on social media. An online leaderboard was updated daily and showed all the races so participants could track how they were doing.
This is the second year of the event, run by GO MAINE, a program of the Maine Turnpike Authority and the MaineDOT, whose mission it is to promote healthy, economical and eco-friendly ways to get to work. This year GO MAINE also awarded a prize to a "Rock Star Rookie", for an employer competing for the first time with an abundance of enthusiasm.
Rebecca Grover, GO MAINE Coordinator said, "Way 2 GO MAINE is way to make your commute, that is often pretty dull, expensive and stressful, into something fun and different. It is also a chance for GO MAINE to spread the word about all the options we offer for commuters: our year-round rewards program for commuters, our online carpool matching service and our Emergency Ride Home benefit."
This year's winners are:
Greener Trips
XXL Organization- Maine Medical Center/MaineHealth
XL Organization- Tyler Technologies
Large Organization- Maine College of Art
Medium Organization-Gulf of Maine Research Institute
Small Organization- ESRI
New GO MAINE Members
XXL Organization- University of New England
XL Organization- Tyler Technologies
Large Organization- Maine College of Art
Medium Organization- Gulf of Maine Research Institute
Small Organization- ESRI
Most Team Spirit- Greater Portland Council of Governments
Rock Star Rookie- Diversified Communications
A new winner this year was Maine Medical Center/MaineHealth. Chris Chop, Maine Medical Center's Commuter Choice Program Manager, said, "We loved Way 2 GO Maine because it used friendly competition as a way to generate interest in alternative commuting. It also was a great way to build camaraderie among our employees."
"For the winning employer in each category, GO MAINE is making a donation in their name to the Maine Environmental Education Association. So employers are doing good twice, by participating in Way 2 GO and also by winning." Grover said.
17,629 greener trips were taken across the state during Way 2 GO MAINE 3,382 Mainers participated and 388 new members signed up. This included 5,948 rideshare trips (this includes carpool and vanpool trips), 2,716 bike trips, 4,890 public transportation trips, and 3,632 walking trips. In all, Way 2 GO MAINE participants saved almost 11,000 gallons of gas, $137,000, and burned 654,000 calories.
"We are thrilled to have so many returning and new businesses compete this year. Those numbers are amazing, just looking at the money savings alone for folks. And Maine is a big state. We're excited to make it even bigger next year." Grover said.
Challenge photos are available for use here: https://drive.google.com/drive/folders/1l6LpdAhNCN6xTHXYm1ryPp01g_d_BCaC
For more information on this year's event go to: https://www.gomaine.org/Programs/Way-2-GO-MAINE
2018 Way 2 GO MAINE Challenge results by the numbers
Weekly prize winners
Week 1: $100 Gift Card to Olympia Sports – Thea Youngs, City of Portland
Week 2: $100 Gift Card to Hannaford – Carri Frechette, Maine College of Art
Week 3: $150 Reny's Gift Card Maine – Eleanor Saffian, Maine Medical/MaineHealth
Week 4: $150 Gift Card to L.L.Beans – Patricia Locklin, MaineDEP
Grand Prize: Tickets for 4 on the Downeaster – Ben Pearson, City of Portland
Thank you to everyone who made their commutes count in October 2018! You are all rock stars. Enjoy some of the highlights below-
Way 2 GO MAINE: October 1-31, 2018
A Challenge event to encourage Mainers to COMMUTE green & reward those who do!
Compete with other workplaces across the state!
To Sign up, click HERE and JOIN!
Way 2 GO MAINE, the Business vs Business Commuter Challenge, is back. And because you asked, we are extending it for the whole month of October! Don't you want to win?
Take the Challenge and make those commutes count! It's fun and it's easy. Log your daily travel to work or school for October 2018 that's via carpool, bus, train, bicyle, walking or telecommuting. Then post on social media, check out how your workplace is doing on the leaderboard and beat out your competition across Maine!
It's a great team-building, healthy, carbon footprint-reducing, money saving event for your workplace. And GO MAINE does most of the work!
Again, this year, there will be fun prizes for those participating. Plus weekly prizes this time around.
Of course, there will be the races for Most New GO MAINERS and Most Green Trips. And then there's the fabulous Most Team Spirit Award, based on social media presence (search social media for #Way2GOMAINE and read more below to get a taste from 2017)!
To Sign up, click HERE and JOIN!
Already a member? Just start logging your commutes. It's easy!
On the menu select Trips
Next select record a Trip
Select your trip of Trip, where you started and ended
Answer a few more easy questions at the prompts
You are done!!!
WAY 2 GO!!!
Rules and Prizes
Eligibility
"Way 2 GO MAINE" is open to any individual traveling to work in Maine who is affiliated with a participating organization, as viewed on the leaderboard. If your organization would like to participate and is not listed, please contact gomaine@maineturnpike.com. Challenge Period "Way 2 GO MAINE" runs from October 1 to October 31, 2018.
How To Participate Simply join GO MAINE or sign in to your existing GO MAINE account online. Once signed in, go to your GO MAINE profile and make sure your organization is specified so your results are counted! Then, simply record your greener trips and view your organizations results on the leaderboard. Leaderboard, or "Races" Results for greener trips, new GO MAINE members, and "team spirit" are tallied up for each organization on an ongoing basis and displayed on the leaderboard. Greener trips are determined by counting the trips recorded by GO MAINERS during the period. New members are determined by counting the new GO MAINE members who signed up to join the program during the period of September 1, 2018 through October 31, 2018. "Team spirit" is determined by GO MAINE staff reviewing social media postings and other promotional efforts undertaken by each organization and using a points system for number and quality of postings.
Winners & Prizes Each week there will be a prize drawing, drawn randomly from all those who have recorded trips during that week. There will be a grand prize awarded at the end of the event. At the conclusion of the event, winning organizations will receive a framed photograph and certificate for the participating team and will have a donation given in the organization's name to the Maine Environmental Education Association (MEEA) who is committed to building healthy, resilient, sustainable communities in Maine. Way 2 GO MAINE gifts/swag are also awarded to participants throughout the challenge. Weekly winners will be selected and notified at 10am on October 9th, 15th, 22nd, and 29th. The grand prize winner will be selected and notified at 10am on November 1st. Winners will have 24 hours to respond and accept their prize, after which time a new winner will be selected. All winners agree to allow GO MAINE to use their photo and likeness (name, home town, and organization) for promotional purposes only. Minimum prize value of $100 each week.
More Information
Need more details? Want GO MAINE to come to your workplace to explain more? Give us a call at (207) 482-8122 or drop us an email at gomaine@maineturnpike.com!