EMPLOYERS, WHAT CAN GO MAINE DO FOR YOU??
GO MAINE can offer employers throughout Maine a no-cost way to help you and your employees save money and reduce your carbon footprint and create a less stressed, happy workplace. Who wouldn't want that?
Contact GO MAINE staff to learn how they can help your business based on your individual needs.
Have an issue with parking? GO MAINE can help; we can match up commuters with others from your company or others nearby, more people carpooling means less cars in your lot.

Have an issue getting employees to your location? GO MAINE can help; we can work with you and a vanpool company to get workers to your place of business

Have a sustainability plan you must follow? GO MAINE can help; we can work with your sustainability coordinator to promote all kinds of green commutes

Need a morale boost? GO MAINE can help, a lot of Mainers have long commutes and studies show that these long haul commuters who carpool arrive at work less stressed.

Need a public relations boost? GO MAINE can help, when your employees find economical, healthy and eco-friendly ways to work it makes you look good.
GO MAINERS come from over 600 organizations across the state. For example at The Jackson Labs in Bar Harbor there are happy employees who get help with their long commutes by taking the bus or carpooling to work. In Portland, The Gulf of Maine Research Institute has created an enthusiasm for carpooling, biking and walking to work; just look at all the bikes!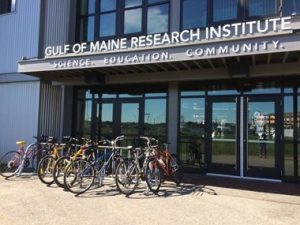 Way 2 GO MAINE is now a bi-annual event! Each May and October, GO MAINE will hold the popular business to business commuter challenge encouraging Mainers from all over to choose a green transportation method to get to and from work.

HELP IS ON THE WAY
GO MAINE makes it easy to establish a successful commuter program at your business. We provide what you need, brochures, posters, and an amazing ridematching service and REWARDS!
We will staff information tables, do lunch and learns (see below), attend wellness fairs to help spread the word and provide an easy way for employees to sign up—right on site.
GO MAINE stays on the job with you, working with your staff to provide ongoing assistance so your employees always have the money saving, carbon-footprint-reducing, rewarding information they need.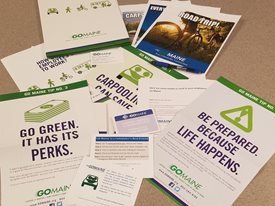 LUNCH AND LEARN
GO MAINE will come to  your business to let your employees know all about green commuting in Maine.
Your employees will learn:
The benefits of taking a green commute to work

How to sign up for GO MAINE

How to be rewarded for green trips

All about Way 2 GO MAINE
All GO MAINE Services are free!  For more information contact the GO MAINE team at rides@gomaine.org or 1-800-280-RIDE.
GO MAINE is a program of MaineDOT and the Maine Turnpike Authority.
GO MAINE EMPLOYER PARTNERS
(As of November 14, 2022)
AECOM
Allagash Brewing Company
Athenahealth
Bangor Savings Bank
Bank of America
Bates College
Bicycle Coalition of Maine
Bigelow Laboratory for Ocean Sciences
Bowdoin College
City of Portland
City of South Portland
Coastal Enterprises, Inc
Coastal Maine Botanical Gardens
Diversified Communications
Eastern Maine Healthcare Systems
ESRI
General Dynamics Bath Iron Works
Greater Portland Council of Governments
Greenbacker Capital
Gulf of Maine Research Institute
Hannaford
IDEXX
Kennebec Behavioral Health
L.L. Bean
Maine College of Art
MaineHealth
Maine Turnpike Authority
Portsmouth Naval Shipyard
Saint Joseph's College
Southern Maine Community College
State of Maine (All Agencies)
Stratton Lumber
TD Bank
The Jackson Laboratory
Tyler Technologies
U.S. Department of Defense
U.S. Department of Veterans Affairs
University of Maine (Augusta)
University of Maine (Orono)
University of New England
University of Southern Maine
Unum
VETRO FiberMap®