TRY TRANSIT – AND EVERYONE BENEFITS!
NOTE: Please read COVID-19 Tips for Riding the Bus and Train here (on page 2).
In a state like Maine, with a large coastline, many islands and a variety of communities from urban hubs to seasonal getaways, there are many different ways to get around – city buses, intercity buses, shuttle services and ferries. GO MAINE supports these transportation options, because they all help us save money, reduce pollution and decrease traffic congestion.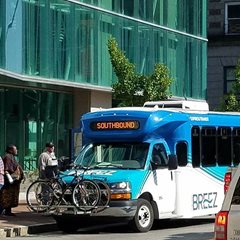 Find out more about Maine's transit options by clicking on one of the links below: