2017 WAY 2 GO MAINE – A GREAT SUCCESS!
"Make your commutes count October 1st-21st!" was the rallying cry of the Way 2 GO MAINE Commuter Challenge last fall. Way 2 GO MAINE was a three week, build-a-new-habit campaign – Maine's first ever business-to-business challenge put on by GO MAINE, the statewide commuter assistance program.
Way 2 GO MAINE created friendly competition between organizations across the state to see how many employees could walk, bike, take the bus or train or carpool to work. It was also a way to celebrate those activities, reward folks who are already out there doing them and inspire other Mainers to do the same!
The three week challenge engaged team champions for each employer who offered simple encouragement to their fellow employees and posted photos and videos on social media with the hashtag Way2GOMAINE.
Participating employees logged their trips, received incentives and watched their workplace zoom up the leaderboard:
Organizations competed for:
MOST GREENER TRANSPORTATION TRIPS RECORDED
MOST NEW GO MAINE MEMBERS
AND MOST TEAM SPIRIT!
Stalwart allies like the Bicycle Coalition of Maine started signing employees up early with campaign pledge cards and posting them at the office. We had a great time with the kick off of the campaign at local large employer UNUM on Monday the 2nd! It was inspiring to speak with staff there – some who already bike or carpool to work and others who are curious about trying the bus or other green commutes.
We designed and distributed event materials and swag and had fun seeing some folks in action when it worked to drop them off in person.
Workplaces offered their own rewards, too. For example, the City of Portland gave out gift cards to top participating employees as part of its City Fit! program. And MEMIC offered $250 to the first 10 employees who signed up for a bus pass or carpool parking in October and gave up a drive-alone parking space – and boy did employees take them up on it.
Maybe the best part was the fun and inspiration everyone shared via photos and videos. Happy commutes all around! Here's a sampling:
And not to be missed are these fabulous videos:
Now, for the winners! All winning organizations were awarded a donation made in their name to one of three organizations of their choice that help improve air quality: American Lung Association, Arbor Day Foundation, and the Audubon Society.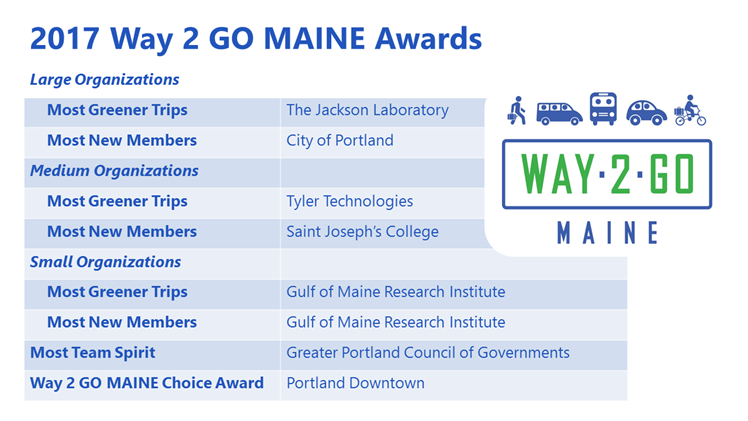 We had a great time distributing awards to the winners, too!
All tolled, the final results – wow!